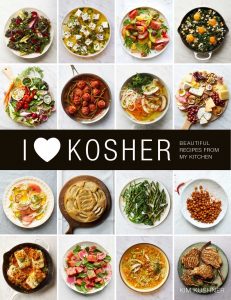 The signature of an excellent cookbook is that it tells a story.
With the profusion of easily accessible online recipes, we're always on the lookout for cookbooks that offer the reader more than just a list of recipes — when we turn the pages we want to learn something new, to hear the voice of the chef, to feel a part of her story.
A Cookbook to ❤️
Kim Kushner's latest cookbook, I Heart Kosher: Beautiful Recipes from My Kitchen (available January 2019), tells a delectable story, with themes of family, entertaining, and inspired cooking.
A graduate of Manhattan's Institute of Culinary Education, Kim has worked as a recipe developer for Food & Wine and Chile Pepper magazines and as a private chef. Currently, Kim teaches cooking classes — some of which are based in her home kitchen.
Kim's cooking classes are varied and cover topics such as: Essentials in the Kitchen, Make-Ahead Classes, and Kosher Family Gatherings. Though her immensely popular classes have been sold out for years, reading I Heart Kosher feels much like you have stepped into a cooking demo in Kim's kitchen.
A Social Experience
Kim's voice throughout the beautiful pages of I Heart Kosher is personal and confiding. The stunning photography by Kate Sears (whose work has appeared in magazines like Better Homes and Gardens, Everyday with Rachael Ray, and Martha Stewart Living) introduces us to Kim in what seem to be her happiest environments — casually clothed and cooking in her all-white kitchen, entertaining friends and family outdoors, refilling guests' wine glasses.
In her introduction, Kim tells us: "My objective, much like my recipes is simple: it's to give you an entire book that offers go-to, tried-and-true recipes that you can rely on for any and every occasion and for any meal of the day."
Kim describes her cooking style as "less is more" and her aim is to create recipes "simple enough to memorize."
With its bold and colorful photos, practical prep tips, and a unique point of view, this cookbook may be more than the sum of its recipes … but WOW are the recipes fantastic.
"Oh, and the recipes just happen to be kosher too."
Kim's first cookbooks, The Modern Menu (2013) and The New Kosher (2015) aimed to meld the traditional and the new — to show the world that kosher cooking and modern cooking are not mutually exclusive.
Now, however, the culinary world has recognized that kosher has caught up with the times. Every recipe is I Heart Kosher is, of course, kosher, but that is almost an afterthought. The quality, ease, and delightful flavors of these recipes are what take center stage.
Blend of Cultures and Flavors
Kim, who was raised Modern Orthodox in Montreal, Canada, credits her early cooking style to her mother, who was born in Morocco and raised in Israel. She visited Israel every summer as a child, and the eclectic blend of flavors and ingredients in her recipes reflects a delicious melding of cultures.
Many of her recipes feature an unmistakable Middle-Eastern, particularly Moroccan vibe, with a penchant for fruits like dates, pomegranates, and figs (CHOCOLATE-DIPPED FIGS WITH PISTACHIOS & ROSE PETALS); spices such as turmeric, cumin, za'atar (CHOPPED KALE, AVOCADO & ZA'ATAR); classic Moroccan recipes like beef and lamb kebabs and hamin (KEFTA BEEF & LAMB KABOBS WITH TAHINI); and unique flavors including rose petals and fried lemons, the latter, Kim tells us, lends a "rich,smooth, malty-lemony flavor" to a variety of dishes (CRISPY CHICKEN WITH RICE, SWEET POTATOES & LEMON SLICES).
Organization + Prep
An especially unique aspect of I Heart Kosher is the attention paid to the details of organization and preparation.
The book includes illustrated lists of kitchen tool essentials, fridge and freezer essentials, spice shelf must-haves, and pantry must-haves. Kim's philosophy relies on always being prepared — with ingredients, ready-to-go recipes, and easy prep hints.
Her recipes are not only streamlined and easy to follow, but also include invaluable bits of wisdom in the form of blurbs such as: "Make-ahead tips", "Can I freeze it?", and "How to reheat"
For Every Occasion
I Heart Kosher is kosher not only in the sense of adhering to the kosher guidelines, but also because the recipes are perfectly suited for the Jewish household. With recipes for one-pan meals (ROASTED SALMON TOPPED WITH SQUASH AND ZUCCHINI CRUNCHIES), gorgeous dishes for Shabbat and holidays (PULLED LAMB SHOULDER WITH RED ONIONS, PARSLEY & POMEGRANATE), and easy yet impressive snacks for a crowd (WALNUT & ROSEMARY SAVORY BISCOTTI), this well-curated collection of recipes offers delicious possibilities for every occasion.
Written by Lubicom for Kosher.com